My Digital Marketing Portfolio
From helping a new asset finance company online and transforming the Google Adwords campaigns for a skip bag company, to increasing the digital presence of an online psychologist and launching a digital campaign for a new type of vending machine, we work with a broad range of small and medium size businesses and sole traders.
I've got a wide range of skills within the digital marketing space and I look forward to helping you transform your business. Get in touch.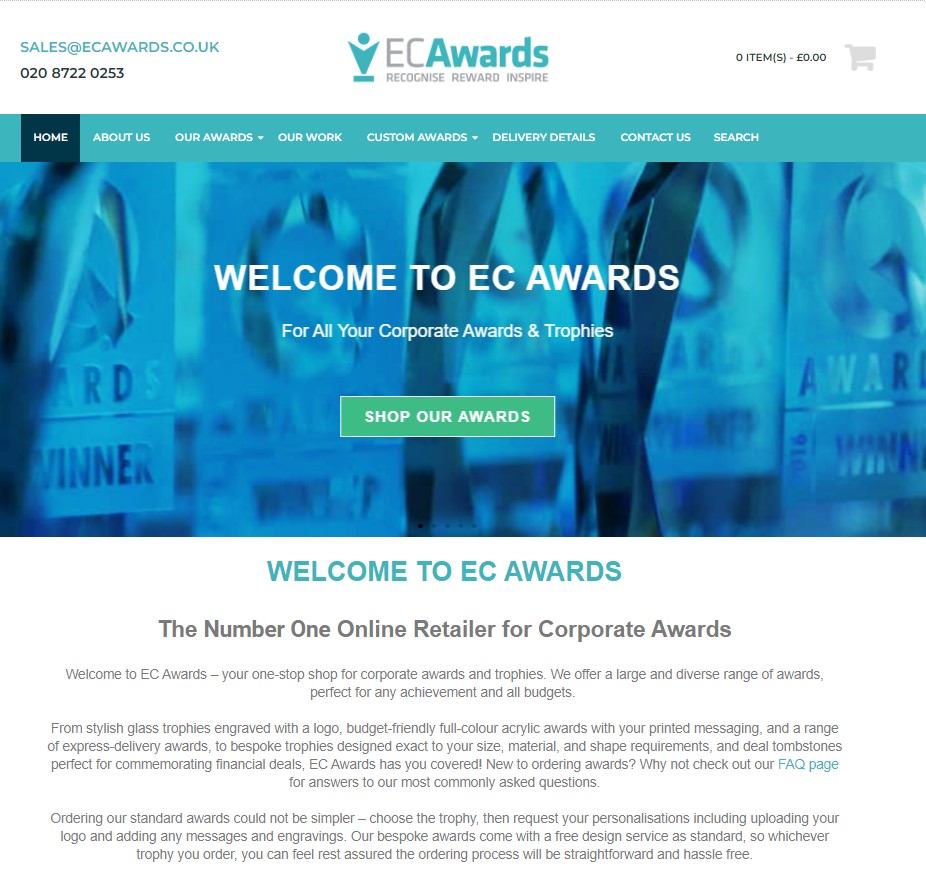 EC Awards is a successful online corporate awards company which I started working with in 2021. Having now become an extension of the team, I work with EC Awards once a week as a digital marketing consultant across all channels. The types of things I do for EC Awards includes monitoring the Google Adwords account, updating and creating WordPress website content and webpage design, writing the email newsletters and the blogs.
"Emily has been part of our team for over a year now, helping us with all aspects of our digital marketing. From the moment she's started working for us, she's displayed a broad knowledge of all the elements of digital marketing and she is highly skilled. Emily is incredibly hard working, and is always keen to complete every task ahead of schedule. Whenever something new is presented to us as a team, she will research it, de-mystify it and present me with a solid conclusion of what value may be there for our company. The easiest way to evaluate Emily's performance is to say that in the time she's worked for our company, she's given us a fantastic return on the marketing initiatives we've implemented. Emily has a great personality and has the adaptability to fit into any team. She is highly recommended."
Find The Write Words is a new business which has been set up offering copywriting services to businesses across the UK. Naturally, the content was provided to me – but I created a WordPress website and selected all imagery.
"From start to finish, It was an absolute pleasure working with Emily. I had little content to work with, just my logo and copy, but she found lovely images and designed a beautiful website that was really in keeping with my brand. The work was delivered very quickly and I am over the moon with the result. I would highly recommend Emily."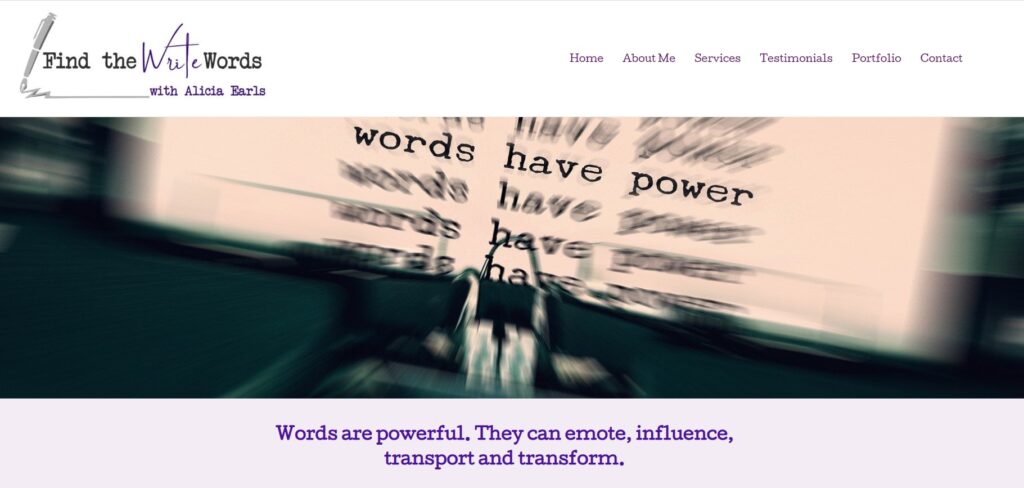 Counselling Psychology Online
I started working with Counselling Psychology Online at the start of 2021. The company represents a group of psychologists who offer online therapy via skype and zoom to customers across the UK. Being a relatively new business, when I took them on as a client, they had no online google ranking presence, and I was briefed to increase their SEO. Counselling Psychology Online now ranks in the top 10 for over 20 popular search keywords and has resulted so many enquiries that four new psychologists have since been employed. I continue to work with Counselling Psychology Online, on writing new content and ensuring no keywords drop in rankings.
"I cannot praise Emily's work enough! She's so intuitive to my brand and uses her initiative to provide thoughtful and meaningful changes to my website resulting in improved the SEO ratings each month. Her overviews of each month's work vs results are very thorough and easily understandable, even for an SEO novice like me! Her suggestions on how to further improve are always evidence-based and show excellent results. Emily's hard work has seen my website return impressive increase in Google rankings, which has had a hugely positive effect in referrals. I have, and will continue, to recommend Emily to colleagues looking to help their SEO rankings."
Surrey Skip Bags is a skip bag collection and delivery service based in Dorking. I was approached by Surrey Skip Bags in August 2020 when they were feeling extremely distressed by their Google Adwords campaigns and why it was not working for them. I set up a new PPC account for Surrey Skip Bags, with the correct targeting, keywords, search copy and extensions, and the number of enquiries from Google Adwords quadrupled within the first three months. Since, I now work with Surrey Skip Bags on all aspects of their marketing and I recently redid their website.
"I'm so pleased I found and put my trust in Emily. She's helped me with my Surrey Skip Bags business more than I could ever imagine. Very reasonably priced and very reliable. Thank you, Emily."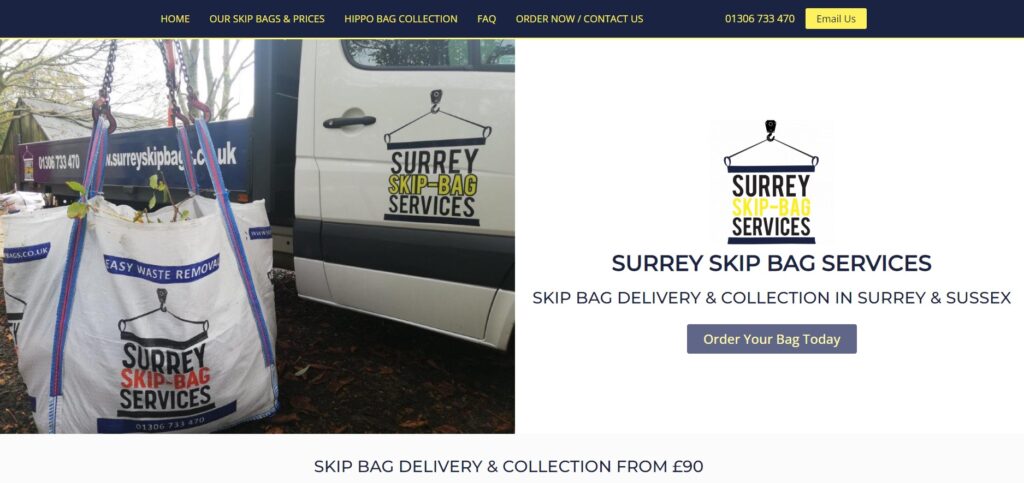 The Great Big Event | Surrey Pantry
Based in Guildford, The Great Big Event Company creates beautiful, bespoke events for private and corporate clients in and around the local area. Working with them a couple of times a month, I work on the SEO, website content including blogs and manage the general marketing strategy.
"We cannot recommend Emily enough. In 2020 we were in need of a website overhaul and as with all these things there was a sea of suppliers and information to try and process. Emily's experience and advice before we had even agreed to the undertaking was exemplary and so our website project commenced. Since then, we have seen remarkable positive changes to our online presence and importantly to our enquiry line. Previously our core services were being diluted and we had no specialist knowledge of how to improve this, but with Emily's support and advice, we did not need to worry. The fast turnaround to this was also astonishing and we are now enjoying an ongoing monthly focussed marketing support with Emily."
Surrey Pantry is a catering company based in Guildford, Surrey which delivers freshly cooked food straight to your door and offers bespoke menus for events. I helped with the launch of the business, by creating the website and writing the content. I now manage all the marketing for the company including the social media and SEO.
I have been working with Seymour Kitchens, a luxury bespoke kitchen design company, since September 2020. On a retainer, I run all aspects of their marketing including managing and developing their website, Social Media posting, Google Adwords and SEO. Since working with them, they tell me "The phone has never rung so much!".
"Emily has been receptive to our online requirements as a company, and has been incredibly thorough with her marketing approach. She is efficient and helpful, always able to offer good guidance when I am out of my depth"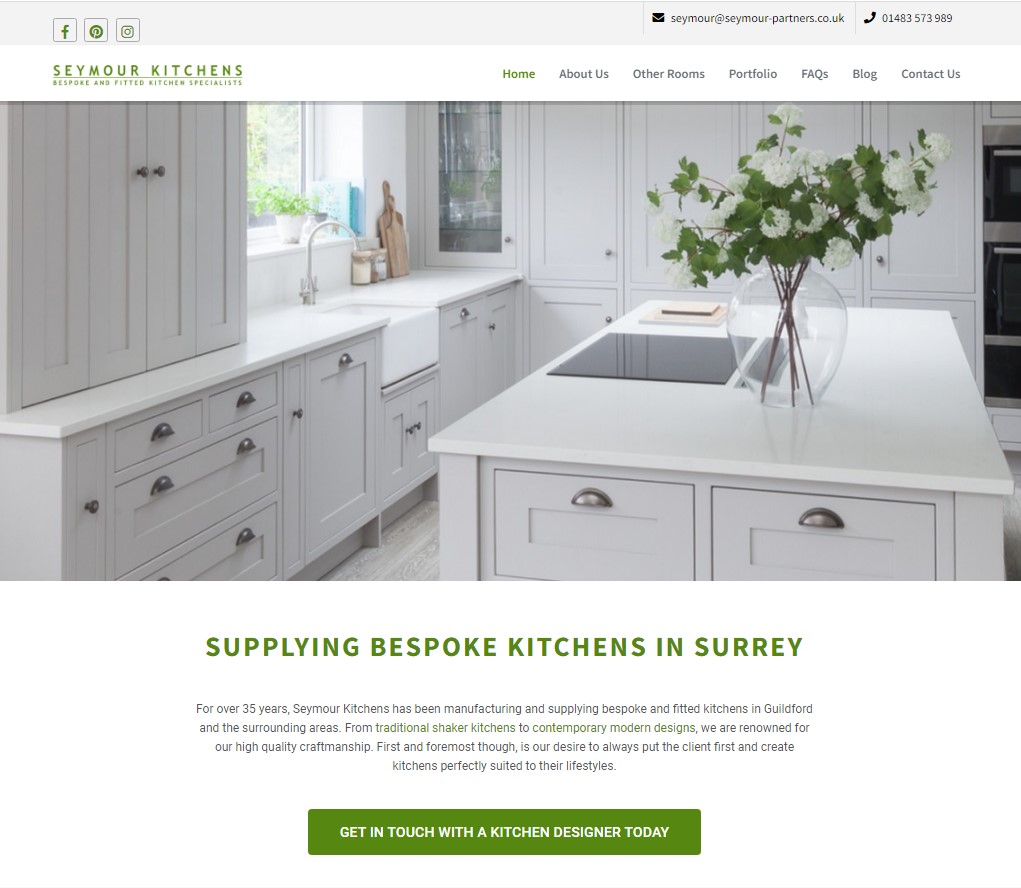 Gemma Williams Private Travel
Gemma Williams Private Travel is a bespoke luxury tour operator which launched in 2021. Gemma was looking for a simple website filled with imagery which would inspire her customers. I created Gemma's logo and website, selected all of the imagery and wrote all the content.
"Emily built my website from scratch with just a couple of pictures and ideas from myself. She helped with the copywriting and styling of the website and sourced some fantastic images and was happy to make any changes I asked for. Highly recommended."
Double O Gauge Association
The Double O Gauge Association is a specialist organisation which brings together railway modellers. When I was approached by DOGA, they had a very cumbersome website built on an old platform which was extremely difficult to update which looked dated and was hard to navigate. I was tasked with creating a new website, to be set up simply to allow for updates to be done in-house. I created re-did the UX navigation, created a new website on a staging site and when it was signed off, replaced the old website. Full training was given to DOGA to ensure they could make all relevant changes moving forward.
"I had been looking for a web designer for a while in order to update an old (by design) website. I came across Emily Prideaux advertising on a local media site and after speaking to her, I was sure she could do the job. I had to bear in mind Emily did not know anything about the topic, but was encouraged by her enthusiasm. I gave her full access to the existing website and within 2 working weeks, the new one was up and running. I had to learn how to use the new interface, but Emily walked me through that as well. Another plus, Emily always rang me dead on the time agreed. Highly recommended."
Pure Food Systems is a vending machine distribution company which has been in business for over 50 years. I have worked on various aspects of the marketing since the middle of 2020 including launching book vending machines for schools via new website pages, Google Adwords and SEO work which has been so successful that it now is the top selling product they sell.
"Emily has been a real pleasure and inspiration to work with over the last couple of years. She has a great eye to detail and has helped generate business as well as help in the website development for a few of my businesses. Highly recommended."
CBT Avon is an online CBT therapist offering CBT Counselling to individuals and businesses across the UK. I started working with CBT Avon in the summer of 2021 helping with the SEO and content on the website. Significant improvements to the SEO rankings have been achieved and I continue to work with them one to two times a month.
"I've worked with Emily for around half a year. I have always found her to be easy to talk to about ideas, conscientious and consistent when delivering results. Emily will achieve the results she sets out to in a matter of weeks - I have ranked highly (often number 1 spots) on Google for many of the keywords Emily has set out to achieve. Emily has helped improve my business tenfold. Thank you Emily!"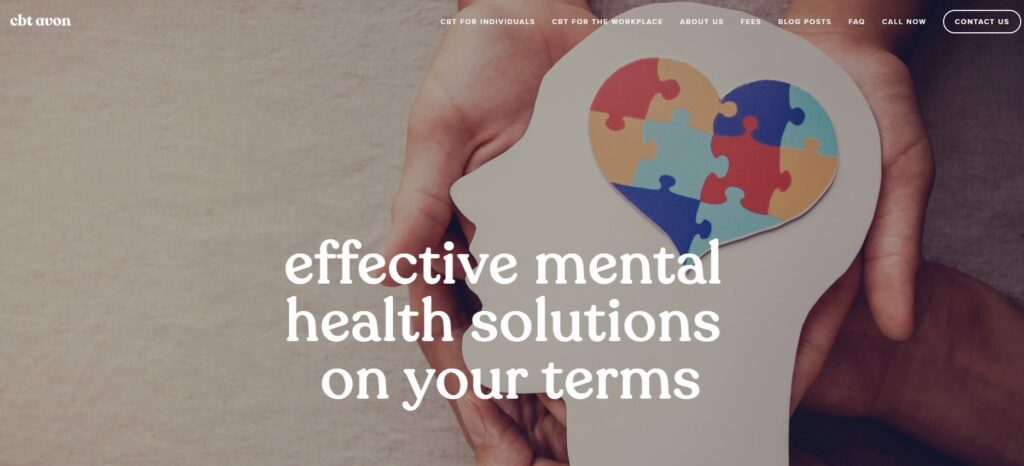 2Plan Project Management is a group of Project Managers and Chartered Quantity Surveyors based in Woking, Surrey. I have worked with them for almost two years offering up weekly marketing consultancy services including Google Adwords (PPC), SEO and branding, as well as some offline support including printed collateral and event management.
"Friendly and approachable, Emily has helped out with a variety of marketing tasks for me over the year or so and proven herself to be a hard worker with great marketing knowledge."
Web Safety Guru is a new business which offers online and at-home computer training for seniors. Whilst Web Safety Guru manage their website themselves, my role is to offer advice and support on new changes made to the website increase the SEO rankings, and user experience. I also manage a small Google Adwords (PPC) campaign to generate further traffic.
"Emily is great to work with. She has helped me improve the google rankings for my business considerably. She has also managed my google advertising campaigns and has also been a great help with ideas to improve the layout and user experience of my website."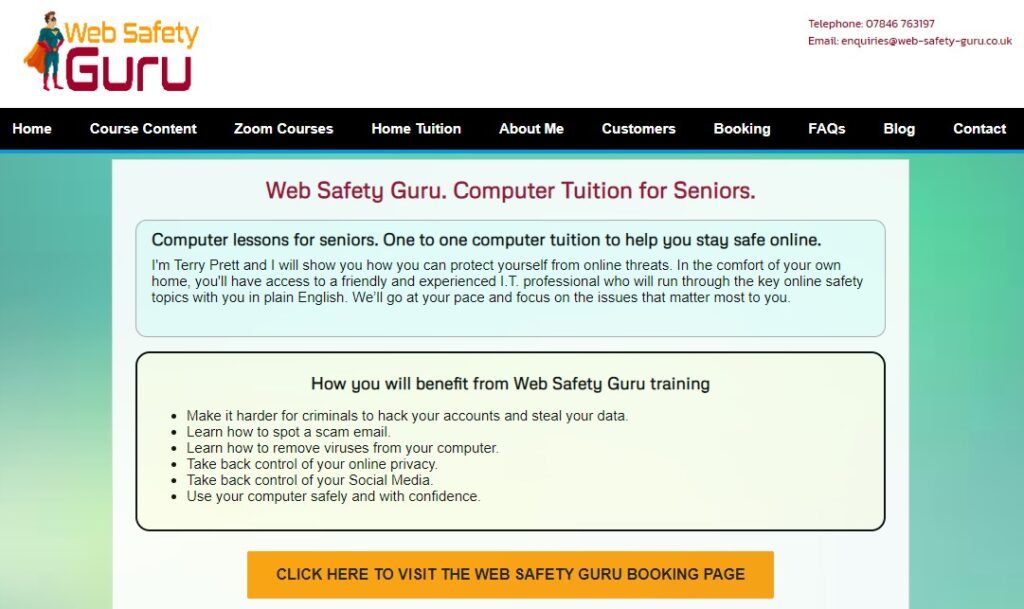 Net Zero Asset Finance Limited
Net Zero Asset Finance Limited are specialists in arranging finance for companies with green credentials. A new company set up in 2021, I helped launch the business by creating the logo and getting it online by creating a WordPress website, ensuring all financial regulations were adhered to.
"I have a new business in arranging finance for the SME sustainability sector and Emily worked with me in the design and set up of the website. Emily was incredibly practical, and yet insightful in the process using her experience, and I am very pleased with the result. I intend to continue to work with Emily on my marketing strategy as the business continues to develop."
The Content Works are specialists in audio, video and virtual content production. I manage the content and UX of the website, as well as the SEO.